University of Alberta Folio – May 24, 2022 – by Adrianna MacPherson
The way ranchers graze their cattle doesn't make much difference in plant diversity on the land, according to a U of A research study
That's important because plant diversity is a useful metric to gauge the resilience of a landscape, including rangeland used by cattle producers, says Jessica Grenke, first author on the study.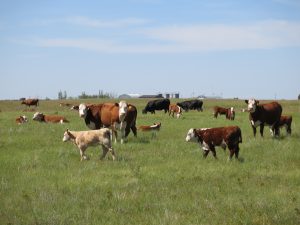 Researchers, Jessica Grenke, Edward Bork, Cameron Carlyle, Mark Boyce, and James Cahill, compared adaptive multi-paddock grazing, called AMP, with other grazing systems more common in the northern Great Plains. AMP is a specialized rotational grazing practice that's intended to emulate historical grazing patterns of large herds of animals moving rapidly across the landscape, leaving a long recovery period before being grazed again.
Research from this team has demonstrated AMP grazing can be a useful tool in reaching other ecological goods and services targets, such as soil carbon sequestration and water infiltration. The most recent results indicate these goals may be reached with little impact to overall plant diversity. The lone negative effect was a small reduction in the total number of native plant species found within each ranch, which may reflect an intolerance of endemic plant species to AMP grazing.
Read the entire Folio article on the AMP Grazing Research Project.