Teaching
The Rangeland Research Institute provides students with a unique opportunity to gain hands-on experience in rangeland environments across the province, and to develop an understanding of the practical issues and challenges associated with sustainable land management.
Every year, numerous undergraduate and graduate students visit the Mattheis Ranch and the Roy Berg Kinsella Research Ranch for field trips, short courses, and to assist with and conduct their own research projects.
At the undergraduate level, senior students in both the Range and Pasture Management Major and the Wildlife and Rangeland Resources Management Major within the Faculty of Agricultural, Life & Environmental Sciences are taken to the Mattheis Ranch and Roy Berg Kinsella Research Ranch in the fall semester as part of their capstone class (ENCS 471).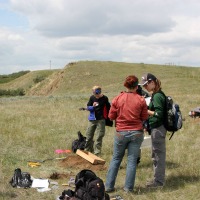 Get Involved
Not only does the University of Alberta offer degree programs directly related to rangeland ecology and management, but students from a variety of faculties and departments are getting valuable training while exploring their interests along with the RRI. Whatever your angle - be it beef production, wildlife conservation, the consequences of climate change or the mitigation of its effects - the U of A offers a program that's right for you.
Check out the program offerings in the following faculties and departments, and visit our research page to find faculty members who are actively involved with the Rangeland Research Institute and may be seeking graduate students.