The Mattheis Chair is currently held by Dr. Edward Bork, who also serves as the Director of the Rangeland Research Institute.
Dr. Bork received a Ph.D. from Utah State University before joining the University of Alberta, where he oversees a diverse research program focused on promoting the long-term sustainability of rangeland plant communities and ecosystems. Specific topics of study range from weed management in pasture, to the integration of livestock grazing with other uses of public land, and more recently, to examinations of ecosystem services from private rangelands.
Himself a manager of a mixed farming operation northeast of Edmonton, Dr. Bork's research is aimed at conserving rangeland ecosystems while providing practical solutions and advice to producers.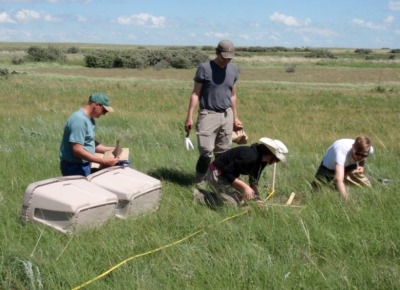 Dr. Edward Bork (left) samples biomass at the Mattheis Ranch with Dr. Cameron Carlyle, and students Ruth Greuel and Greg Boorman. Photo by T. Broadbent.